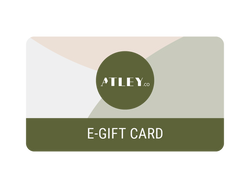 Atley.co
Atley.co E-Gift Card
Left it to the last minute? Having trouble deciding on the perfect gift? You've come to the right place... Let your loved ones choose the perfect gift for themselves.
Our gift cards will be delivered directly to your email and will contain instructions on how to redeem them at checkout. 

Multiple gift cards can be purchased in one transaction (i.e. 3 x $50 vouchers) and they will be emailed separately to the gift purchaser. More than one gift card be used towards a single purchase. Gift cards are applied to the final order total which includes shipping and taxes.
T&C's: Our gift cards can only be redeemed online and are valid for 12 months from the date of purchase. Our gift cards have no additional processing fees. Gift cards cannot be transferred, refunded, returned or exchanged for cash. Atley.co will not replace gift cards that are lost, stolen, damaged or used without permission.